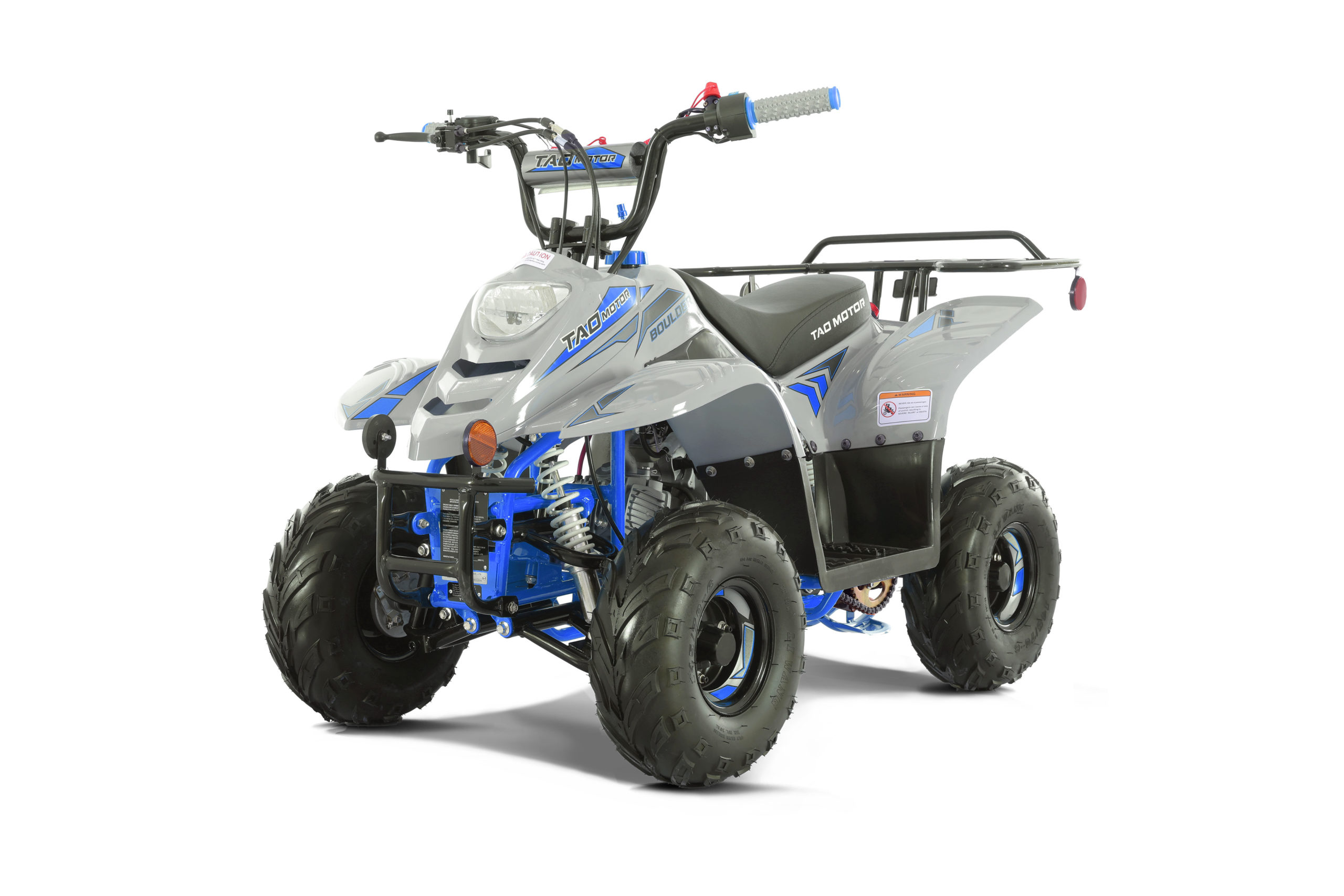 Out with the old, in with the new. The all new 2022 Tao Motor Boulder still has the same great safety features you're familiar with, but with a sharp new design and plenty of upgrades. Our smallest gas powered youth ATV, designed for riders aged 10 and up, the Boulder has been a staple in the Tao Motor lineup for years. Because of its dependability and affordability, it has become our best selling youth size ATV, favored by kids and parents alike. 
Small but fierce, the Boulder has a 4-stroke 107cc engine that has just the right amount of power for the early days of riding. Focused on safety, the Boulder comes with a wireless engine shut off remote and adjustable speed governor, allowing young riders to learn safely and giving supervising adults peace of mind.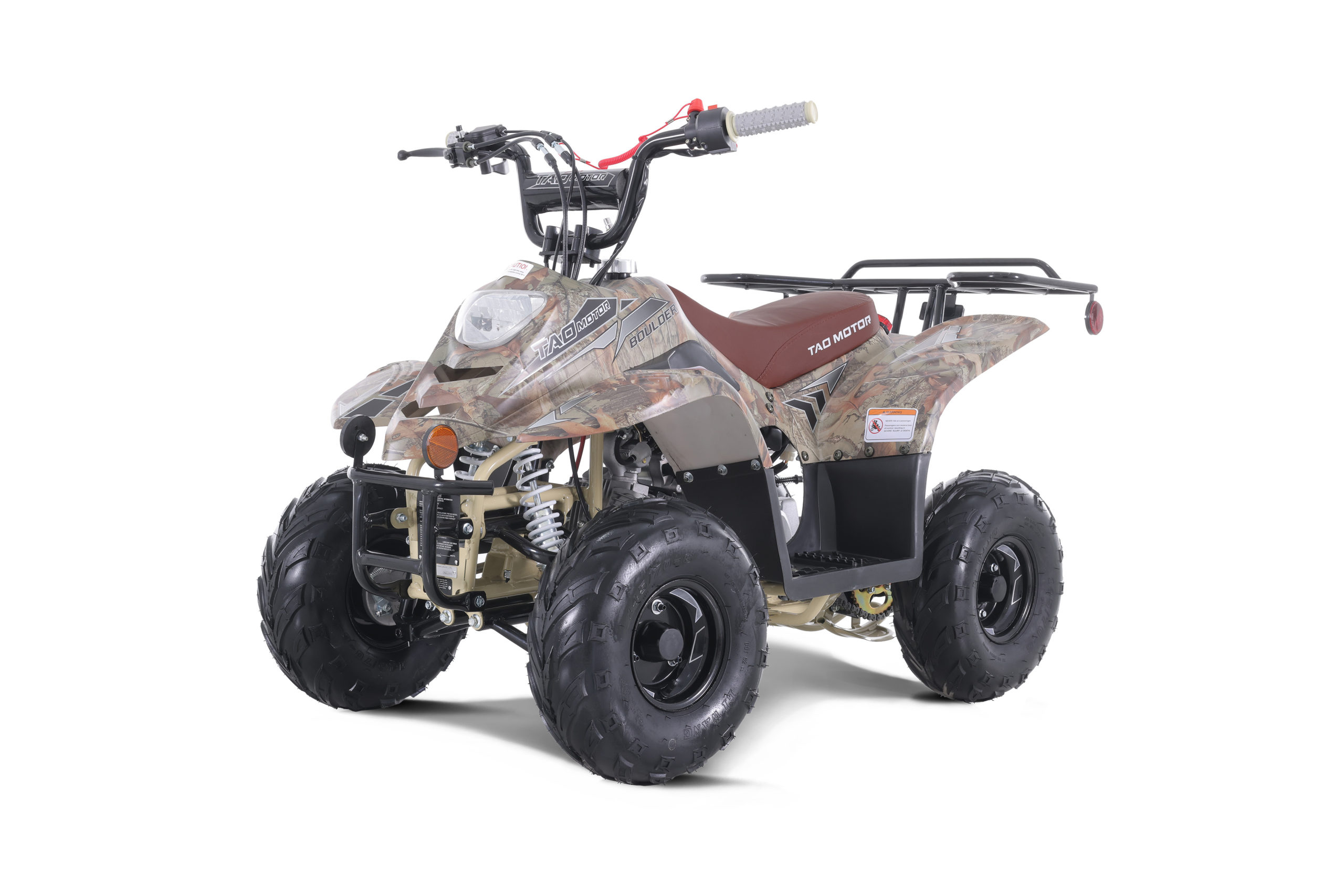 New decal design with new colors
Powder coated color matching frame
Super soft hand grips, color matched to the vehicle
Color matching timing plug set
Color matching oil dipstick
Color matching aluminum fuel cap and vent plug
Color matched metal swing arm skid plate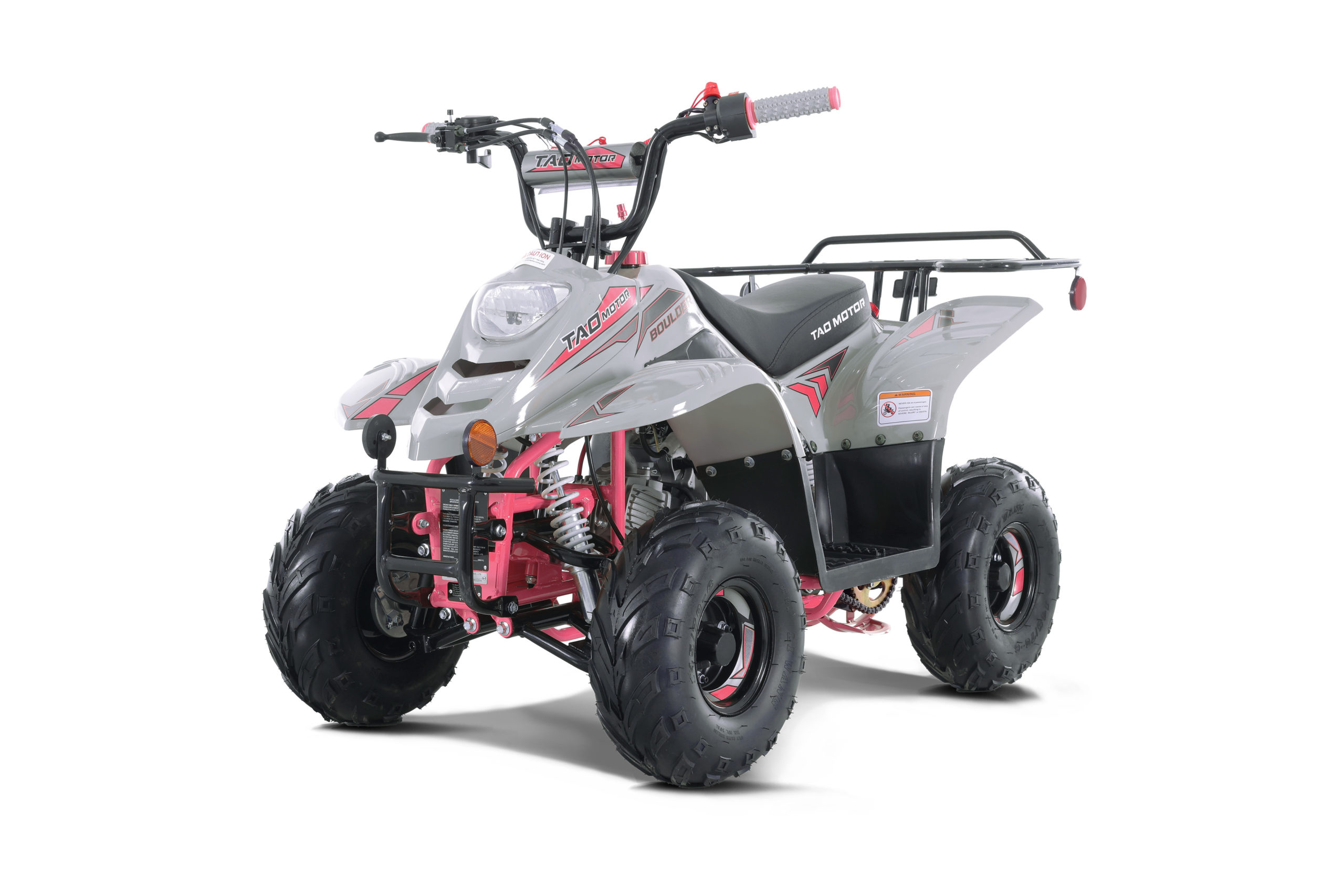 Powder coated red rear brake caliper
High performance red ignition coil wire
New bar pad design color matching to the vehicle
Tao Motor branded seat
Color matching wheel decals
New Camo design with cream color frame and dark brown seat
Engine

Engine Type
107cc, Air Cooled, 4-Stroke, single cylinder, automatic
Start Type
Electric Start
Transmission
Chain Drive
Engine Gear
Fully Automatic
Ignition
CDI
Fuel tank capacity
3.5L / 0.92 US gal.
Chassis

Front Hand Brake
Drum
Rear Foot Brake
Disk
Tire Front
14.5 x 7 - 6
Tire Rear
14.5 x 7 - 6
Remote Wireless Shut off
Yes
Speed Limiter
Yes
Tether kill switch
Yes
Battery
12V/5Ah
Dimension

Seat Height
23.6 inches
Ground Clearance
2.75 Inches
Unassembled Crated Weight
205 LBS
Vehicle Assembled Without Fuel
185 LBS
Vehicle LXWxH
51.5 x 28.7 x 33.6 Inches
Carton Size
45 x 27 x 23 Inches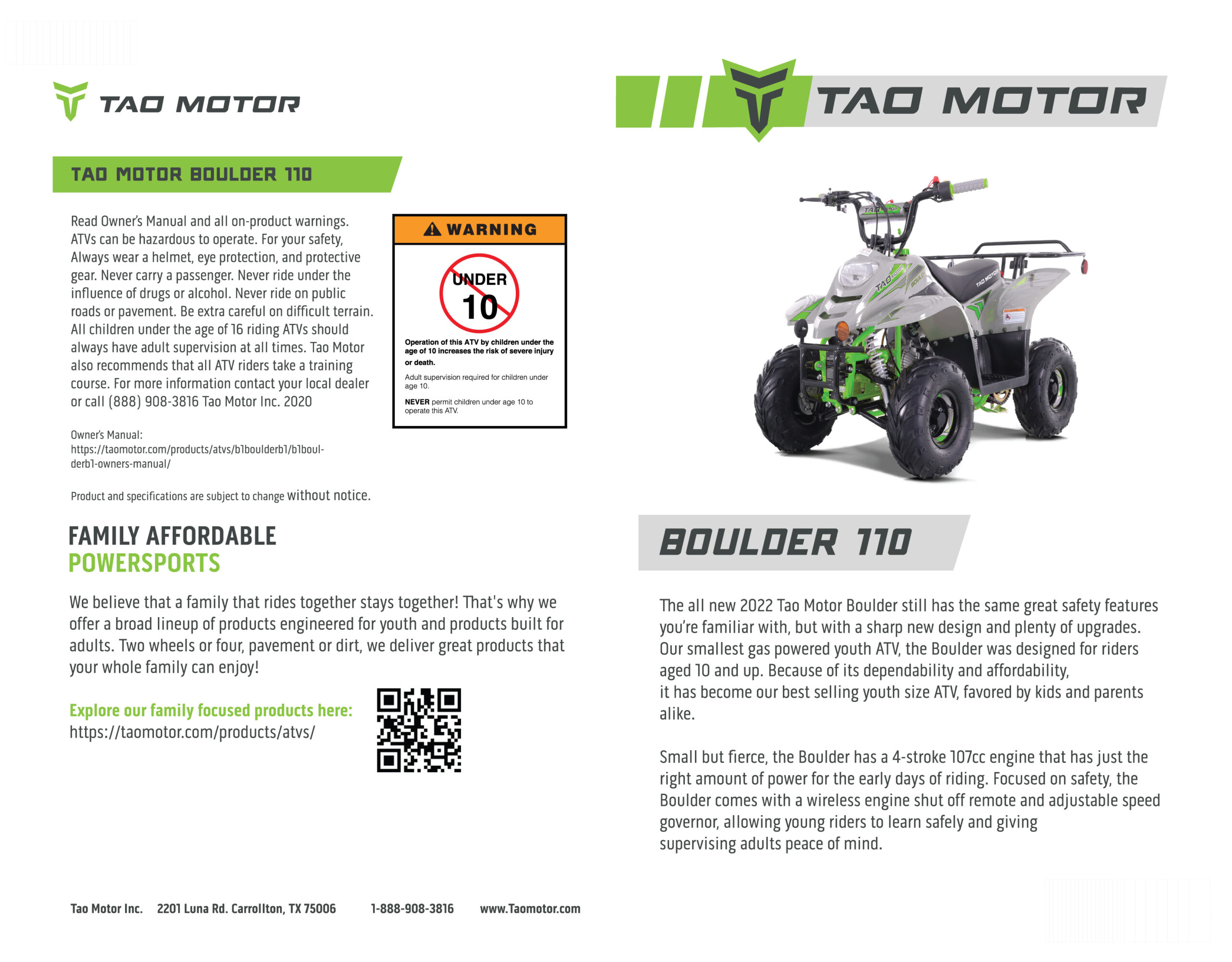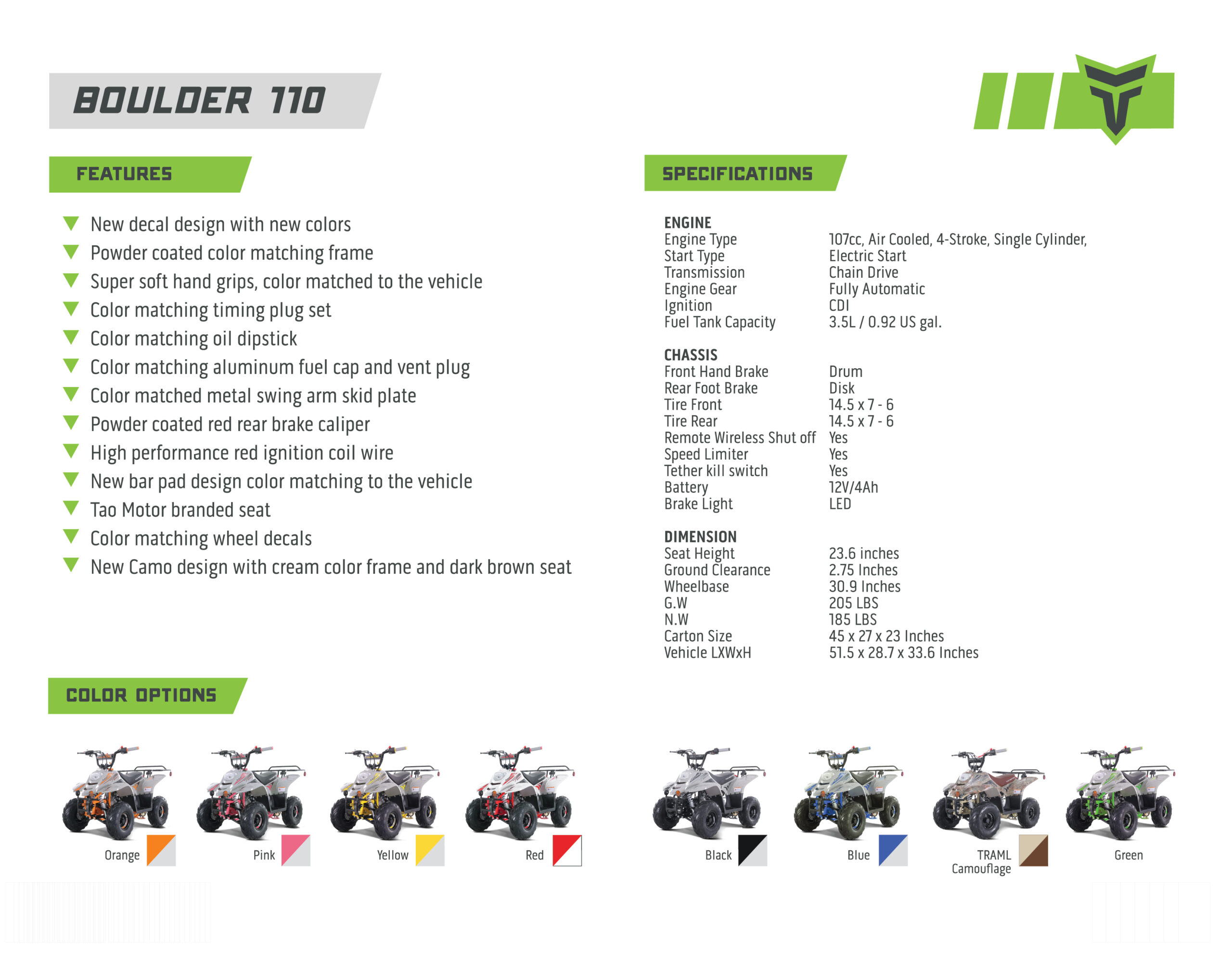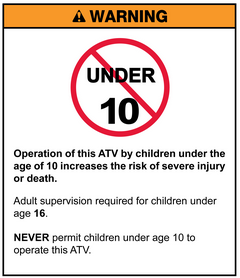 Tao Motor Cares: Read Owner's Manual and all on-product warnings. ATVs can be hazardous to operate. For your safety, Always wear a helmet, eye protection, and protective gear. Never carry a passenger. Never ride under the influence of drugs or alcohol. Never ride on public roads or pavement. Be extra careful on difficult terrain. All children under the age of 16 riding ATVs should always have adult supervision at all times. Tao Motor also recommends that all ATV riders take a training course. For more information contact your local dealer or call (888) 908-3816 Tao Motor Inc. 2020